Freedent Communication and promotion strategy
Freedent was the first brand to be partnered to a French association "Union Française pour la Santé Bucco-Dentaire" – UFSBD.
This partnership offers the brand a very good way to communicate its benefits to its customers because a professional association trusts the brand as healthy and benefic for the teeth.
Freedent always communicate on the healthy attributes of the products but this partnership reinforces the brand image.
At first, when the brand was sold, it was in the toothpaste shelves for the brand to better show its positioning to the customer and in combination with the TV ad campaigns, the "health side" of these chewing-gums is now well established in customers mind. In addition to the healthy side, Freedent is also a remedy against bad breath !
Freedent's ad campaigns are always fun, so let's watch some of them :
Bad breath oriented :
Health oriented :
The last one is part of the implementation of the new slogan (cf. slogan article)"Un repas, un café, un freedent" which means "A meal, a coffee, e Freedent". With this new slogan, the brand wants that chewing a Freedent becomes an habit after lunch like drinking a coffee or smoking a cigarette. This is a very clever way to push consumers to chew more and more Freedent's products by integrating it in their lifestyle.
For each new product, the brand try to illustrate the felling you have when chewing it in its ads. For the Freedent tabs which is soft, sweet and surprising, the brand invented a new animal called Wofty which illustrates these 3 attributes in a funny ads. I remember the first time my girlfriend saw this ad she said "Oooooh it's so sweeeet...!" and that was everybody's reaction when seeing the ad (especially for women) !
Freedent Fusion :
In this ad, we can see the "strong" side represented by the bear who has just eaten the man who wanted to clean the area, but also the sweet side because the bear looks very nice and calm, like a teddy bear.
These funny ads often provocate a buzz on the Internet which means that the brand is very good in communication because a lot of people want to see their ads. The sympathy capital of the brand is kind of extra large !!
On the promotion side, Freedent always provides its customers with discounts on the products.
Actually, two promotions are available :
- - 100% refund on the Freedent Clear products
- - 2€ refund for a simultaneous purchase of three Freedent products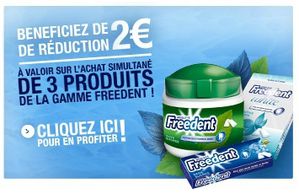 Those promotions are only available on the website as you need to download a coupon and send it to Freedent by mail with purchase proves. This strategy forces the customer to visit regularly the website to get discounts. It's a simple way to get in touch regularly with the customers and make them aware of new products or anything !