Malabar "The Bubble gum generation"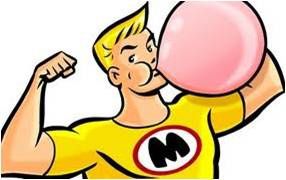 Malabar has been created by Krema in 1958. After the success of Hollywood chewing gum, the company wants to create a chewing gum especially targeting children from 8 to 14 years old who want to share fun together. The principle of the product is easy; the chewing gum is composed of two gums that can be shared. There is only one flavor available: Tutti Frutti.
Malabar rapidly become a popular brand thanks to the collectable images present in each packaging. Consumers had the possibility to discover incredible stories, about animals, architecture, and mankind.
In 1965 people can also collect illustrations about different cultures, costumes and uniforms; and the year after, the famous tattoo made his apparition becoming one of the brand icons.
The other famous icon is created in 1969 under the name of Mr. MALABAR, a strong blond guy helping children in many illustrated adventures. Mr. Malabar becomes the model for several generations of children. The character as been modified through the years but the massage remains the same "Quand y en a marre, y a Malabar" Mr. Malabar is always here to help children to grow up and have fun.

Malabar has changed his character in 2011, the strong blond guy disappear and is replaced by Mabulle, a black cat wearing a yellow tie and sunglasses. The message is still based on cool attitude and fun, but this radical change as been perceived as the destruction of a legend by many old consumers.
Even if the brand positioning is the same, we will have to wait before knowing the impact of that change on the new generation of 8-14 years old consumers.